is a

Drum Machine

that features custom

play with your Keyboard or Joypad

including a
good reaction speed
and only little delay. With five Record-Slots you can save, load and also
MIX together your custom beats
.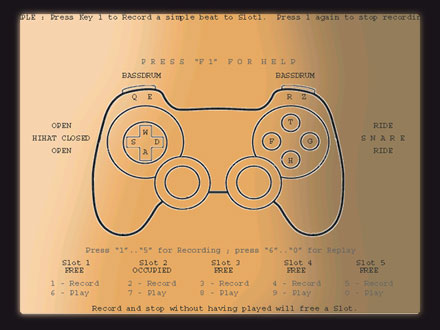 MINIMIZED DELAY BETWEEN HIT AND SOUND
RECORDING AND PLAYING
C H A N N E L - M I X I N G
great Sound Samples, customizable if wanted
JOYPAD AND KEYBOARD DRUMS
alltogether a good joypad and keyboard drum machine, free to use !
Windows Version:
Download (Zip Compressed): ->
C-DrumPad.zip
<- (1.3 MB, License : Freeware)
( C-DrumPad uses SDL ->
libsdl.org
, SDL is under the
GNU LGPL
)
C - Drumpad, Freeware Joypad and Keyboard Drums. Feel free to copy it to your friends.